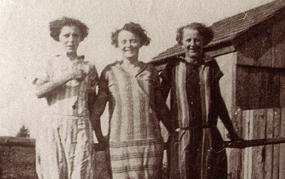 May (Marya) Doroski of Riverhead (in the center) with two of her sisters on their father's Sothampton farm in the 1920s.
The Three-Century Club
By Liz Wood
An old issue of The Riverhead News, dated Jan. 1, 1901, carries the story of the only local resident, then aged 101, to have lived in three centuries. We've got that beat. One hundred years later (minus one), Riverhead is home to three people who've lived in three centuries: from the late 1800s, through the entire 1900s to - in a day or two - 2000, and counting.
Mae Doroski of Riverhead celebrated her 100th birthday a couple of weeks ago at a party at Polonez Restaurant. Among the plaques she received from Supervisor Vinny Villella and state Assemblywoman Pat Acampora was a special greeting from the White House. It reads in part: "In the past 100 years you have had the opportunity to be a part of the most fascinating times the world has ever known."
Long-past events that may fascinate a politician or seem momentous to a historian may not matter much, if at all, to people of a certain age. So it appears among our three centennial celebs. They're much more concerned with the present.
Mrs. Doroski's face lit up as she recalled her party, with balloons, flashing cameras and 37 family members there, "an awful lot of people," she said, including her daughter Josephine Kneski, eight grandchildren and 15 great-grandchildren.
She was born Mae Kruszeski on Nov. 22, 1899, in Southampton, where her father, a farmer, was the first Polish settler. After her marriage to the late Stanley Doroski of Cutchogue in 1923, she raised two daughters and lived in Laurel, Jamesport and finally on Flanders Road before arriving at Riverhead Nursing Home in 1996.
Besides playing bingo three times a week, she said, "I enjoy my family. That's my main pleasure now."
Seated beside her was Florence Magnolia, a sprightly, slim 102-year-old who wears her silver-white long hair in a fetching topknot. "Just be casual and don't overdo about anything," she advised with a twinkle. "That's how I kept my figure!"
Ms. Magnolia was born Oct. 25, 1897, in West Hoboken, N.J., and lived for many years in Sag Harbor with her younger sister, Anita Hack, a nursing home resident herself. "Long Island was so countrified then," she recalled.
Nowadays, her greatest pleasure comes from children, music ("the tops," she said, remembering how her father played the clarinet), "beauty, and things people make. I remember the good things," she continued. "What's important now is what I love: ordinary, everyday life. Oh! And I'm crazy about cats."